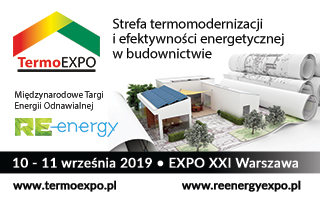 Conferences
The International Renewable Energy Fair RE-Energy and the Zone of Thermo-modernization and Energy Efficiency in Construction
As a Content Patron of the International Renewable Energy Fair RE-Energy and the Thermomodernization and Energy Efficiency Zone in Construction, we cordially invite you to sign up for the event. 😉
The International Renewable Energy Fair RE-Energy is a unique fair event dedicated to broadly understood renewable energy (RES), during which the most modern solutions and technologies will be presented. RE-Energy is not only an opportunity to show how to easily take care of the environment, provide energy and generate energy, but it is also an opportunity to broaden the existing knowledge about energy and ecology.
The Termoexpo zone is a must in the calendar for representatives of the thermomodernization industry and widely interpreted ecological heating. They are directed to everyone who wants to increase the energy efficiency of buildings and thus to reduce heat consumption to a minimum.
This event will undoubtedly be a platform for the exchange of theoretical and practical knowledge in the subject of passive, energy-saving, zero-energy or positive-energy construction.